7 Latest Movies and TV Shows on Netflix, Prime Video, Disney Plus, and Other Platforms This Weekend (March 17th)
Read Time:
8 Minute, 5 Second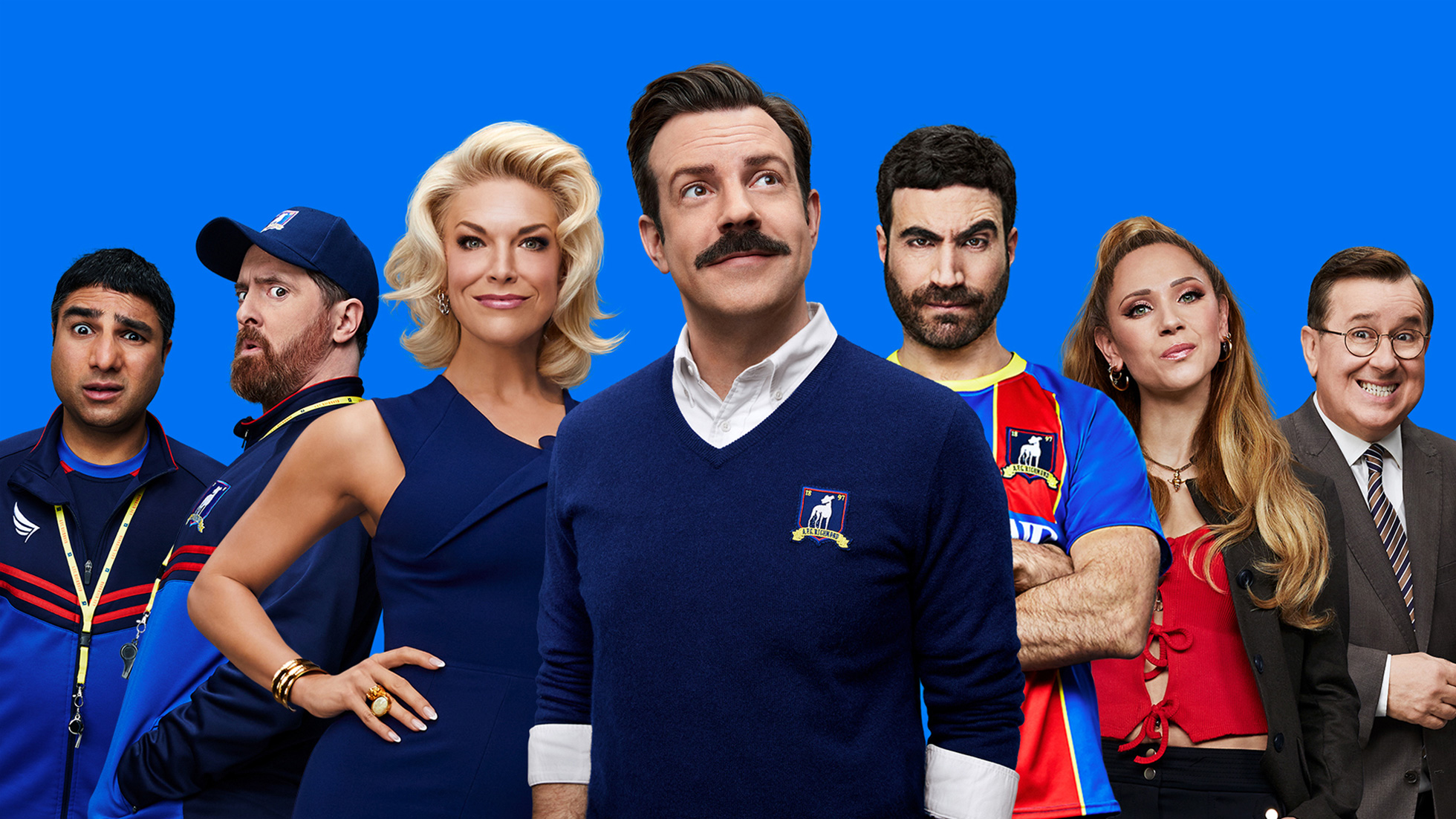 It's a delectable mix of long-awaited homecomings on streaming services this weekend, with Shadow and Bone and Ted Lasso returning for their second and third seasons on Netflix and Apple TV Plus respectively. Elsewhere, Prime Video gets a brand new series from Atlanta creator Donald Glover, while Keira Knightley makes a return to moviemaking in The Boston Strangler, which is now streaming on Hulu in the US and Disney Plus in the UK. There's plenty more where that came from, too. In fact, we've rounded up seven of the biggest new movies and TV shows to catch on streaming services this weekend. So, what are you waiting for? Dive in!
Ted Lasso season 3 (Apple TV Plus) 
Headlining this week's crop of streaming arrivals is Ted Lasso season 3, which has begun airing on Apple TV Plus. Arriving almost two years after its sophomore year, the third installment of one of the best Apple TV Plus shows around finds its titular soccer (sorry, football) coach tasked with keeping AFC Richmond afloat in the English Premier League after their hard-fought promotion. With Ted's former protégé, Nate, now employed by a rival team – West Ham United – though, things are bound to turn ugly.In our Ted Lasso season 3 review, we said the show's latest chapter "is as delightfully charming, thought-provoking, and crowd-pleasing as it gets," which bodes well for its legacy as Apple TV Plus' first real hit. Episode 1 is available to stream now, with subsequent entries due to arrive weekly every Wednesday .Now available to stream on Apple TV Plus. Today's best Apple TV+ deals (opens in new tab) (opens in new tab)
Swarm (Prime Video) 
Atlanta fans, stand up! Donald Glover returns to showrunning duties this weekend with a new thriller series, Swarm, on Prime Video. Co-created with Watchmen writer Janine Nabers, this seven-episode story follows a young woman, Dre (Dominique Fishback), who "goes to increasingly violent lengths for her favorite R&B singer." Amazon appears to be being deliberately coy about the series' premise beyond that cryptic synopsis, but Swarm's trailer suggests it's a bloody horror adventure in the Jordan Peele mold. Expect it to land on our best Prime Video shows list soon.All seven episodes – which critics have described as "frequently fascinating" – are available to stream now. Now available to stream on Prime Video.Today's best Amazon Prime Video deals (opens in new tab) (opens in new tab) (opens in new tab)
Shadow and Bone season 2 (Netflix) 
Netflix's acclaimed fantasy series, Shadow and Bone, returned for its highly-anticipated second season this week. Shadow and Bone season 2 finds the show's heroine, Alina Starkov (Jessie Mei Lin), embarking on a continent-spanning journey across the sea in search of allies to aid her fight against the nefarious General Kirigan (Ben Barnes). Meanwhile, The Crows, led by Kaz Brekker, have more home-based problems to deal with as new enemies muscle onto their Ketterdam-based turf.This newest season is again based on Leigh Bardugo's book series of the same name, with multiple novels – specifically, Siege and Storm, and Ruin and Rising (the second and third entries in the Shadow and Bone trilogy), plus the Six of Crows duology – providing narrative inspiration. Read our Shadow and Bone season 2 review to see if it's as magical as we hoped.Now available to stream on Netflix. Today's best Netflix deals (opens in new tab) (opens in new tab) (opens in new tab)
The Boston Strangler (Hulu, Disney Plus) 
If you're in the mood for a grisly detective drama this weekend, look no further than The Boston Strangler, which is streaming on Hulu in the US and Disney Plus in the UK. This feature-length, based-on-a-true-story thriller stars Keira Knightley and Carrie Coon as journalists tracking the Boston Strangler killings in the 1960s. David Dastmalchian, Chris Cooper, and Bill Camp count among the movie's impressive supporting cast. Reviews for The Boston Strangler suggest it's worth catching on one of the world's best streaming services, based on where you live in the world. One to add to our best Disney Plus movies and/or best Hulu movies guides in the coming days? Potentially.Now available to stream on Hulu in the US and Disney Plus in the UK. Today's best Hulu deals (opens in new tab)at Hulu (opens in new tab) (opens in new tab)at Hulu (opens in new tab)This new Apple TV Plus series looks to continue building out the streamer's increasingly stellar sci-fi genre back catalog. Not only that, but Extrapolations is a TV show with a foreboding, climate-based message at its heart.An anthology sci-fi drama, Extrapolations tells a multi-decade spanning tale of humanity's fight to combat climate change. Each episode acts as a standalone story, but there's an intriguing throughline that sees characters' journeys collide in a plot that's eventually fleshed out into a collection of interconnected stories.Reviewers have suggested Extrapolations' penchant to beat us over the head with its political and environmental messages. However, critics have hailed the talents of the show's all-star cast, which includes – but isn't limited to – *deep breath* Kit Harington, Meryl Streep, Sienna Miller, Edward Norton, Daveed Diggs, Tobey Maguire, Gemma Chan, David Schwimmer, Keri Russell, Forrest Whittaker, and Matthew Rhys. Phew!Now available to stream on Apple TV Plus.
Agent Elvis (Netflix)
Elvis, one of the best HBO Max movies, might not have scooped up an award at this year's Oscars ceremony, but that doesn't mean the legendary rock'n'roll star's time on the big and small screen is over – and this R-rated Netflix animated series proves it.Trading his iconic white jumpsuit for a jetpack, Agent Elvis sees, well, Elvis join a 1960s-vased top-secret spy program tasked with stopping the world's biggest supervillains. It's a far cry from performing to massive crowds on the world's biggest stages, isn't it, Mr. Presley?With gratuitious violence, sex scenes, and plenty of swearing, this isn't a family friendly affair. Still, viewers are sure to be entertained by what's on offer, as well as its voice cast – Matthew McConaughey, Christine Hendricks, Simon Pegg, Kieran Culkin, and Priscilla Presley among its extensive ensemble.Now available to stream on Netflix.
The Magician's Elephant (Netflix)
Agent Elvis isn't for kids, but this heart-warming CGI flick will warm the cockles of your heart and entertain your children. Well, for one weekend, at least.Based on Kate DiCamillo's 2009 novel of the same name, The Magician's Elephant stars Noah Jupe as Peter, whose search for his sister leads him to a fortune teller. There, he's told to find a magician with an elephant – surprise, surprise – who can help him locate his missing sibling.The Magician's Elephant isn't too inventive as stories go, but its themes, starry cast, and wow-inducing visuals will keep those young tots engrossed for a couple of hours. Don't be surprised to see it on our best Netflix movies and new Netflix movies lists soon.Now available to stream on Netflix.
7 New Movies and TV Shows to Watch on Streaming Platforms This Weekend
The weekend is upon us, and it's time to bring out the popcorn and cozy up on the couch to catch up on the latest movies and TV shows. Here are 7 new releases on popular streaming platforms like Netflix, Prime Video, and Disney Plus, among others, that you can binge-watch this weekend.
1. The Falcon and The Winter Soldier (Disney Plus)
The highly-anticipated Marvel series is finally here, and fans of the franchise can't wait to see Sam Wilson and Bucky Barnes team up in this action-packed thriller.
2. Operation Varsity Blues: The College Admissions Scandal (Netflix)
This Netflix original documentary examines the infamous college admissions scandal, shedding light on the corrupt practices that allow wealthy families to buy their way into prestigious universities.
3. Invincible (Prime Video)
This animated superhero series follows the story of Mark Grayson, the son of Earth's most powerful superhero, as he navigates his own powers and responsibilities.
4. The One (Netflix)
This British sci-fi series explores a world where a DNA test can help an individual find their perfect match, leading to complicated relationships and ethical questions.
5. DOTA: Dragon's Blood (Netflix)
Based on the popular video game, this anime series follows a king and his allies as they fight to protect their kingdom from dark forces.
6. Genius: Aretha (National Geographic)
Academy Award nominee Cynthia Erivo stars in this biographical drama as the legendary singer Aretha Franklin, chronicling her rise to fame and struggles as a woman in an industry dominated by men.
7. Calls (Apple TV+)
This unique series features a collection of suspenseful phone conversations, brought to life through innovative visuals and sound design.
FAQ About 7 New Movies and TV Shows on Streaming Platforms this Weekend
Q: Where can I watch The Falcon and The Winter Soldier?
A: The series is exclusively available on Disney Plus.
Q: Is Operation Varsity Blues a true story?
A: Yes, the documentary is based on the real-life college admissions scandal that rocked America in 2019.
Q: Do I need to be a gamer to understand DOTA: Dragon's Blood?
A: No, the series is designed to appeal to both fans of the game and newcomers to the franchise.
Q: How many episodes are there in Genius: Aretha?
A: The series comprises 8 episodes.
Q: Are all episodes of Calls available on Apple TV+?
A: Yes, all 9 episodes of the series are available to stream on Apple TV+.